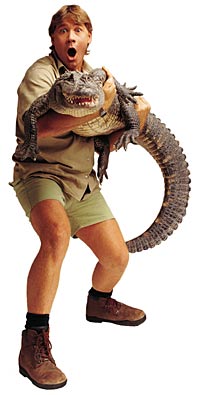 I am the first to admit that nature shows aren't my thing, but for some reason, whenever I'd come past one of Steve Irwin's shows, I'd always stop and watch.
He was just so intense and passionate about what I would consider to be the most frightening animals in the world, which I felt was truly amazing. On one episode, I remember him jumping (fully clothed) into a swamp to follow some kind of scary looking snake. He finally got hold of it, and what did he do? he kissed it on the mouth, like it was an adorable puppy!
So, like millions over the world today, I was saddened by the news of Steve's untimely death – sad that the world has lost a unique conservationist, and sadder for his wife and two young kids as apparently Steve was a fantastic Dad too.
Weirdly enough, Steve was killed by a large stingray, who experts say is considered to be peaceful animal (compared to the fierce gators and snakes he usually cuddles) and not one to attack humans.
And now there are also reports saying that the last moments of his life was caught on tape, with Steve valiantly pulling the baton-like poisonous barb from his chest.
He was dearly loved my many all over the world, but even more so in his native Australia who consider him to be a "national treasure" and have offered his family the honour of a state funeral.